The month February is filled with plenty of horror, woo-hoo!!
Wowzers! It's been a while since I did this one! I'm here to share the list of all the 
oh-so-delightful
 horrors coming out this glorious month! In the world of horror, it doesn't matter if it's straight to DVD or theaters--
horror
 is 
HORROR
!
If you've already checked any of the movies out, please let me know. Or if you plan on checking any out...let me know anyway! Or! If I'm missing any, LET ME KNOW! Duh!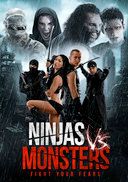 Ninjas Vs Mosters 

- RELEASE DATE: February 2nd, 2015